High school students: Interested in doing more with Creative Writing, Performance Arts, and Computational Thinking? Join the DEPICT team and be the creator of new technologies! This camp is July July 3-14, 2023 (meeting on July 4) Monday - Friday from 10 am-3 pm on the campus of New Mexico State University, Department of Computer Science, Science Hall (Las Cruces campus). Applicants must be rising into 9th, 10th, 11th, or 12th grade, submit an online application, be in good academic standing, and able to attend camp every day. Preference will be given to students who took Creative Writing this school year at Las Cruces and Organ Mountain High School. This camp provides a broad foundation for computational thinking and computer science, to empower our area high school students in CS and computational thinking. This camp is not geared towards advanced students in computer science. Summer stipends ($$$) will be provided to accepted participants, who attend camp every day and participate in the camp activities. Lunch and all supplies will be provided. Summer programs are presented by the outreach team in the Department of Computer Science at NMSU. Instructors are accomplished NMSU students studying computer science, creative media, animation, and electrical engineering. We utilize near-peer mentors as educators to build strong connections between participants and the exciting world of computer science, creativity, and technology. There is no cost to participate, but space is limited. Click here to register:
https://bit.ly/NMSUDEPICT2023
Parents and guardians of students eligible to attend kindergarten are reminded that online registration is now open. Children who are at least five years of age by Sept. 1 are eligible to enroll for the 2023-2024 school year, which starts with a transition day on July 19. Click here for more information:
https://www.lcps.net/o/lcps/article/1144137
The American Diabetes Association Camp 180 was established in 1978 and has served close to 3,000 campers at Fort Lone Tree Camp in Capitan, NM. This woodland setting is a wonderful place to commune with nature just outside Albuquerque where campers will enjoy swimming, archery, hiking, high ropes course, giant swing, RC racing, horseback riding and tons of other fun activities. ADA Camp 180 is a lifeline for children with diabetes to develop the critical skills needed to thrive while managing their diabetes. Attending summer camp helps children develop social skills, self-respect and life-long friendships. Kids have the opportunity to meet others just like them while fostering independence, building self-confidence and gaining an awareness of a healthy lifestyle through education, nutrition, exercise, emotional well-being and glucose control. Camper Programs: Main Camp Ages: Ages 8-12 Teen Program: Ages 13-16 Counselor-in-Training Program: Age 17 Counselor-in-Training Program The Counselor-in-Training (CIT) program is for youth age 17 and was created as a transitional stage from camper to staff. CIT's are expected to display responsibility, maturity and a positive attitude. They are a highly visible group among campers and are often looked up to as role models. CITs apply through the camper registration portal. Parent is required to start and complete the application. Applicants are selected based upon completion of an application, personal references and interview. Click the link to register:
https://engage.active.com/landing_page/camp180_2017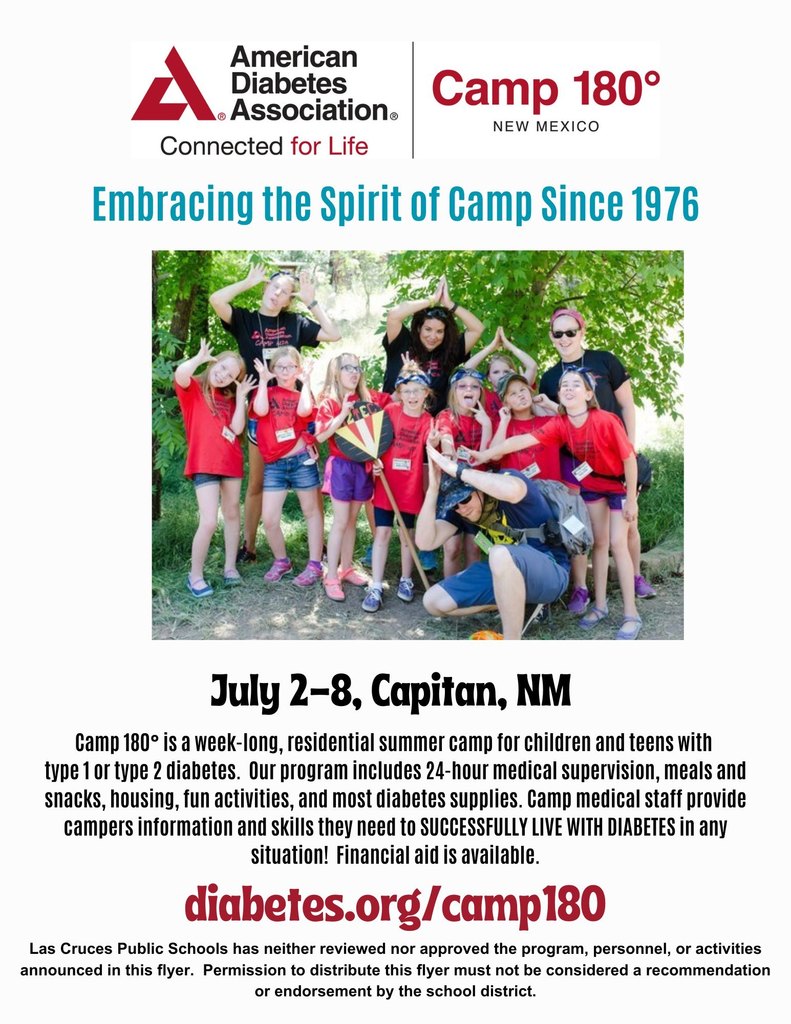 The Friends of the Organ Mountains Desert Peaks National Monument and the Las Cruces District of the Bureau of Land Management, selected local Artist in Resident will be hosting two separate mural "paint days" Saturday, June 10 and Sunday, June 11, in which attendees of all ages are welcome to come assist completion of small (approx. 5 ft×7.5 ft) murals showcasing the flora and fauna of the Organ Mountains Desert Peaks National Monument! The mural "paint days" will be from 1-4 p.m. at the La Cueva covered picnic area. The murals are easily paint-able on cloth paper, all paints are premixed and color-coded, as are the designs. No artistic experience required. All ages are invited to attend this event. Related coloring-book images will be available for participants ages 4 and under who may just want to participate coloring with crayons on printer paper. For more information email:
wwight@blm.gov
or call: 575-525-4444.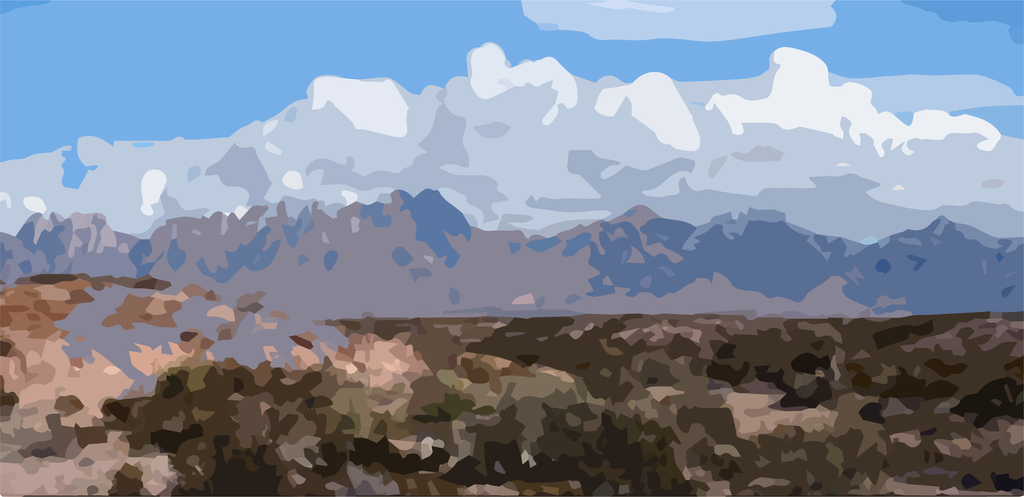 Tonight, Las Cruces Public Schools will be rolling out the red carpet to student filmmakers, hosting the first-ever Tell the Story Film Showcase Wednesday and Thursday, May 24 and 25 at the Cineport 10, 700 S. Telshor Boulevard. Join us tonight for some popcorn and a chance to watch some really great movies on the big screen brought to you by our talented student filmmakers. More information:
https://www.lcps.net/article/1126250
Congratulations to Las Cruces Public Schools and our community on the new Field of Dreams Digital Scoreboard! The Field of Dreams hosts athletic and other events throughout the year bringing many students, families and community members together. Thank you, Citizens Bank, we are so proud of our partnership with you and the creation of this spectacular scoreboard. It will be exciting to see it in action!
Las cruces Public Schools welcomes the new Daktronics video board at Field of Dreams. Looking forward to the amped up stadium experience and student-athletes being showcased on the display.
Mayfield Commencement Postponed - Severe weather expected, ceremony pushed to Sunday Severe thunderstorms developing Saturday afternoon near the Field of Dreams have prompted administrators with Las Cruces Public Schools to postpone commencement exercises for Mayfield High School's Class of 2023. The ceremony has been rescheduled to Sunday morning at 9 a.m. at the Field of Dreams. District officials have been monitoring the weather the last few days with the assistance of the National Weather Service in Santa Teresa. Storms originally were expected to pass through but developed quickly, prompting swift action. "We understand this is a tremendous inconvenience for graduates and families, but the safety of everyone at the stadium is of paramount importance," said Deputy Superintendent of Operations for LCPS, Gabe Jaquez.   All commencement ceremonies have been broadcast live, courtesy of LCPS-TV. Click here for more information.
LCPS Parents, We are experiencing a districtwide outage with our phone lines. This means phone calls to your child's school are not going through. We have service providers looking into the issue and we will update you as soon as possible. Padres de LCPS, Estamos experimentando una interrupción en el servicio telefónico en todo el distrito. Esto significa que no se pueden recibir ni hacer llamadas telefónicas en la escuela de su hijo. Tenemos proveedores del servicio tratando de resolver dicho problema le tendremos al tanto de lo que ocurra tan pronto como nos sea posible.
High School Summer Enrichment Internship Program! Earn up to $3,000 for the summer! If you're a high student or recent 2023 graduate. Become a Doña Ana County employee! Paid internships will be offered to area students at least 15 years of age. *15-year-olds must have a work permit. Typically, 20 hours per week, not to exceed 200 hours for the length of the program. Students will be paid $15.00 per hour for a max of $3,000. To apply, visit:
www.donaanacounty.org/summerintern
The Black Education Act Bureau is proud to collaborate with the Martin Luther King Commission to host the 2023 Youth Leadership Conference June 2-4. All middle and high school students are welcome. Free transportation and lodging provided. Registration deadline is May 19, 2023. For questions, contact: Beverly Gaines,
bevieg52@gmail.com
Click the link for more information:
https://nmmlksc.org/youth-leadership-conference/
Around The District: The weekend, the LCPS Safe Routes to School program hosted the 2023 Family Bike Fiesta. From bike repair to safety gear, riders of all ages were invited for some family fun in the sun. Video:
https://www.youtube.com/watch?v=jQWl8I5UCQc
Produced by LCPS.TV
#ThankAPrincipal is the national hashtag for honoring principals everywhere! Share a thoughtful message or photo of your principal and post it to social media with the hashtag #ThankAPrincipal. Las Cruces Public Schools #NM #LasCruces #WeLoveOurPrincipals
For our wonderful educators, Interim Superintendent O'Brien wanted to share some heartfelt words with you. Please click the link below for more:
https://www.youtube.com/watch?v=vLZAT56EMpM
Happy Teacher Appreciation Week!
Wonderful performances at the New Mexico Activities Association (NMAA) State High School Band Contest by Las Cruces Public Schools band programs! Congratulations to CHS for winning 3rd place! Mayfield High School Wind Ensemble, under the direction of Rod Pior and Marissa Al-Masoud Centennial High School Wind Ensemble, under the direction of Philip Ramos Karen Padilla Las Cruces High School Wind Ensemble, under the direction of Ty Frederick and Raul Escobedo
The NMSU Physical Science Laboratory is looking for LCPS High School Students interested in learning about AI! PSL is partnering with STEMx and NMSU STEM Outreach. Applications are now open and will be due April 14th. #stem #lascruces #nmsupsl Click the link to learn more about STEMx Events:
https://www.youtube.com/watch?v=Zu7OIqusQNM&t
Click the link to download an application:
https://redcap.link/STEMxNMSU2023
Do you know of a youth group raising funds to support activities or travel? The Keep Las Cruces Beautiful program is holding a Youth Service Week from April 24-29. During this week youth, groups have the opportunity to complete a community service project that will clean up an area in Las Cruces. As a token of appreciation for the community service, the group will earn a $250 stipend from Keep Las Cruces Beautiful. Those wishing to participate should be willing to commit to a minimum of two hours. The group can choose its own project or one can be assigned. To participate, please register by clicking the link:
https://forms.office.com/g/vsptLiJRyn
. Be advised, this is not an LCPS program. Questions or requests for additional information should be directed to: Amelia Corrales, Interim Keep Las Cruces Beautiful Coordinator Direct: 575-528-4506 Main: 575-541-2454
acorrales@lascruces.gov
Student Scholarship Applications for LCPS Foundation Due April 14 Attention LCPS Seniors: All LCPS graduating seniors are encouraged to apply for our 2023 Scholarships. Thirty one (31) scholarships are available ranging from $250 – $2000. Only one application is necessary. The scholarship deadline has been extended to this Friday, April 14Th. Don't miss your opportunity to apply!! Apply here:
https://lcpsf.smapply.io/
La fecha límite para la beca estudiantil de la Fundación LCPS se extendió hasta el 14 de abril Atención estudiantes del último año de LCPS: Se alienta a todos los estudiantes de último año de LCPS que se van a graduar a solicitar nuestras becas 2023. Treinta y un (31) becas están disponibles, estas fluctúan desde $ 250 hasta $ 2000. Sólo es necesaria una solicitud. La fecha límite para solicitar las becas se ha extendido hasta este viernes 14 de abril. ¡No pierdas la oportunidad de solicitarla! Solicítala aquí:
https://lcpsf.smapply.io/
We are proud to congratulate the three district finalists for the 2024 Educational Support Personnel of the Year Award for Las Cruces Public Schools. Jorge Legarreta was selected to be the Educational Support Personnel of the Year at Central Elementary School. Andrea Ramirez earned the title for Educational Support Personnel the Year at Camino Real Middle School. Emily Viramontes was named Educational Support Personnel of the Year at Jornada Elementary School. Congratulations to these exemplary educational support staff for always going above and beyond for students, every day!
The Las Cruces Public Schools Board of Education will begin accepting applications from candidates interested in an appointment in District 1, a position on the board vacated by Ray Jaramillo. The deadline for candidates to submit all required documentation is April 12, 2023. Click the link for more information:
https://www.lcps.net/article/1065638