The Math Success Center at NMSU is offering outreach tutoring via zoom to local high school and middle school students.
The math tutors are undergraduate students pursuing majors in the STEM fields and will focus on helping secondary students develop conceptual understanding and computational skills.
Tutors can assist students best when work has been attempted beforehand. Please note that tutors will not do a student's homework, assist with any exams, or just give the answer.
Tutoring hours are from 3:30 p.m. – 7:00 p.m. Monday through Thursday. Please see the flyer for more details.
Access the "Outreach Tutoring" link here: https://math.nmsu.edu/_assets/hidden/outreachtutoring.html
Download the PDF to this flyer here: https://5il.co/1j13s
---
El Math Success Center de NMSU ofrece tutoría a estudiantes de secundaria y preparatoria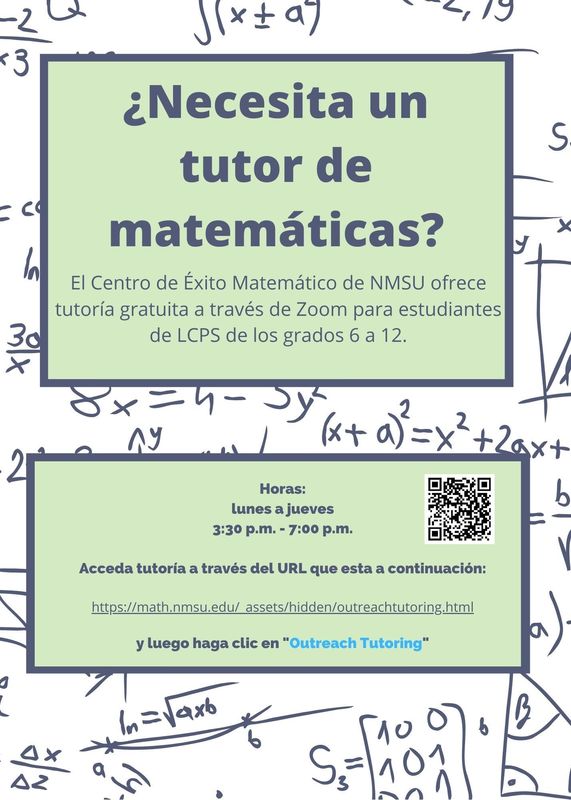 El Math Success Center en NMSU ofrece tutoría de extensión a través de zoom para estudiantes locales de secundaria y preparatoria.
Los tutores son estudiantes de pregrado que buscan especializaciones en los campos de STEM y se centrarán en ayudar a los estudiantes de secundaria a desarrollar la comprensión conceptual y las habilidades computacionales.
Los tutores pueden ayudar mejor a los estudiantes cuando el trabajo se ha intentado de antemano. Tenga en cuenta que los tutores no harán la tarea de un estudiante, no ayudarán con ningún examen ni simplemente darán la respuesta.
El horario de tutoría es de 3:30 p.m. - 7:00 pm. Lunes a jueves. Consulte el folleto para obtener más detalles.
Acceda al enlace "Tutoría de divulgación" aquí: https://math.nmsu.edu/_assets/hidden/outreachtutoring.html
Descargue el PDF de este volante aquí: https://5il.co/1j13s