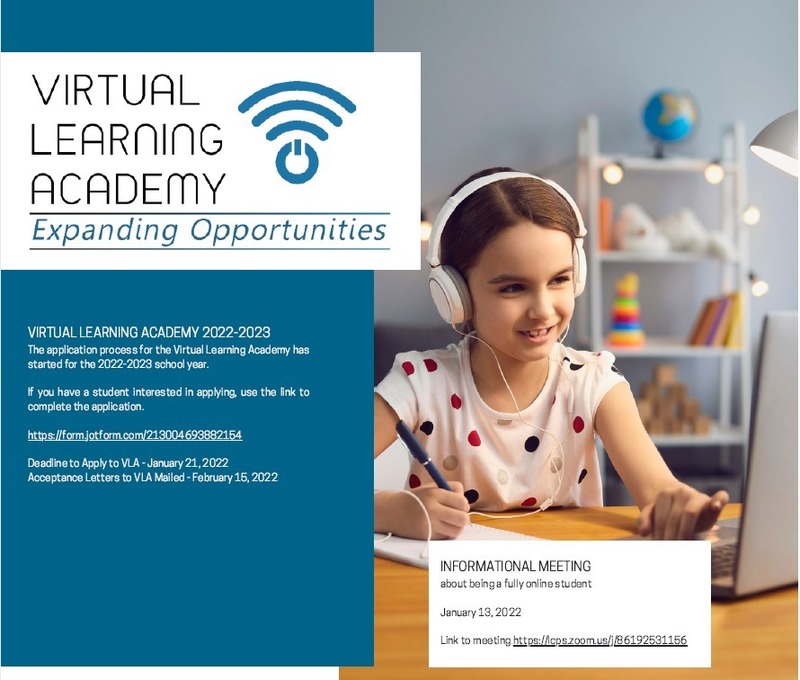 Virtual Learning Academy K-12 for the 22-23 School Year
What is LCPS Virtual Learning Academy?
LCPS Virtual Learning Academy is an online learning program available to students who live within the boundaries of Las Cruces Public Schools. High quality courses are taught by highly qualified teachers in a flexible, supportive environment. Talk with your school counselor to see if VLA is right for you!
VLA classes are available for LCPS students who are interested in expanded opportunities beyond the traditional classroom. Distance Learning may be a good option for students who:
Prefer a flexible schedule

Need a quiet, distraction-free environment to focus on their studies

Travel extensively with family

Are advanced learners

Have scheduling conflicts
---
We would like to announce the opening of the application period for the Virtual Learning Academy. The applications are for the 2022-2023 school year. The link below will take you to the online application. Please have your student with you and fill it out together. The application does have essay questions and other information that the student will fill out and also information that the parent/guardian will need to fill out. One application per student will need to be filled out. This is the only way to gain admittance into the Virtual Learning academy for next year. Virtual Learning Academy is open for Kindergarten through 12th grade students.
If you're interested in learning more about the Virtual Learning Academy, there will be a meeting for VLA hosted on Zoom, Thursday, January 13th, from 5:30 p.m.-6:30 p.m.
Zoom link for VLA meeting: https://lcps.zoom.us/j/86192531156
VLA Application link: https://form.jotform.com/213004693882154
Deadline to apply: January 21, 2022