*Photos: courtesy of the Education Service Center - Region 19
On July 1, 2023, Natalia Acosta-Briones, a 7th grader from Mesa Middle School earned first place at the 2023 National Spanish Spelling Bee (NSSB) hosted in El Paso, TX. After five hours of the spelling competition, a tie was declared between Natalia and Emilio Fuentes, from Woodlands, TX.
Natalia has been competing in the National Spanish Spelling Bee since she was a student at Sunrise Elementary School. After Natalia took first place at the Las Cruces Public Schools 2022-2023 District Spanish Spelling Bee, she advanced and competed in the 2022-2023 State Spanish Spelling Bee, where she took 3rd place overall in state. Last year, Natalia took 2nd place at the 2021-2022 National Spanish Spelling Bee.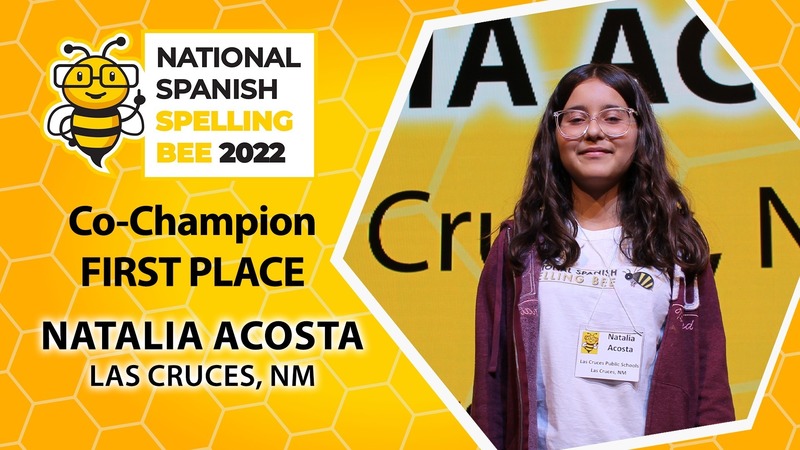 "Teachers and staff from Bilingual Education, Translation & Interpretation, & Community Outreach, including her advisors and teachers at Sunrise Elementary and Mesa Middle School are all proud of Natalia," said GeAnn Killgore, Coordinator of the English Learner Programs K-12 in the Bilingual Education Department.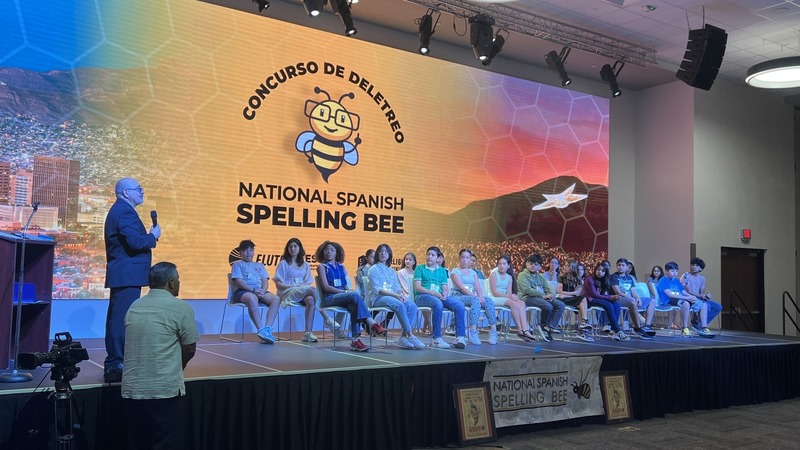 "She's a hard worker and we're so proud that this year she did tie for first place and she just continues building those leadership skills," Killgore added.
The competition, held at Education Service Center Region 19, brought together twenty-eight champions from across the United States, spanning from Washington D.C. to California. The spellers showcased their exceptional skills in Spanish, meticulously tackling high-difficulty words such as 'incognoscible' and 'moaxaja.' The event commenced at 9:00 a.m., after several hours of intense spelling battles, the competition culminated in a stalemate around 2:30 p.m.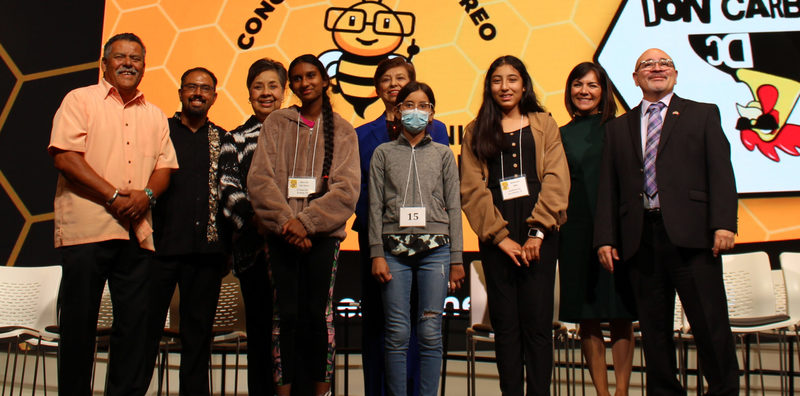 "Both Emilio and Natalia proved to be outstanding spellers and deserved the first-place title," stated David Briseño, NSSB Founder and Coordinator. "It gives me great joy to know we have such determined and poised young people in this competition," Briseño added, emphasizing the remarkable talent displayed by the co-champions.
The National Spanish Spelling Bee is for students in grades 4 through 8. Competitors must have placed in a State or Regional Spanish Spelling Bee in the year of the National Bee.
The first National Spanish Spelling Bee was held in 2011. Each year, the program has grown, as participants from more states get involved. Over the years, the NSSB had champions from all across the country.
---
ESTUDIANTE DE MESA MIDDLE SCHOOL OBTIENE EL PRIMER LUGAR, CONVIRTIÉNDOSE EN CAMPEONA NACIONAL DEL CONCURSO DE DELETREO EN ESPAÑOL
*Fotos: cortesía del Centro de servicios educativos – Región 19
El 1.º de julio de 2023, Natalia Acosta-Briones, una estudiante de 7.º grado en Mesa Middle School, obtuvo el primer lugar en el Concurso de deletreo en español (NSSB) que se llevó a cabo en El Paso, TX. Después de cinco horas de competencia, se declaró un empate entre Natalia y Emilio Fuentes de Woodland, TX.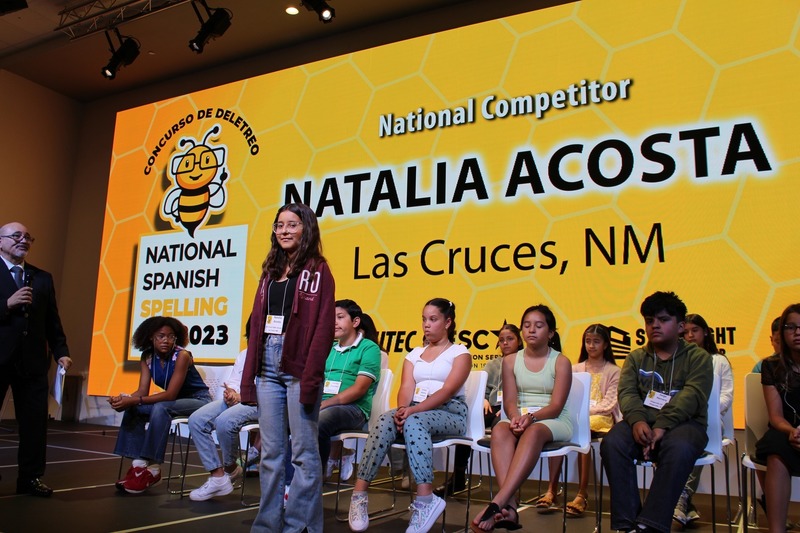 Natalia ha participado en el Concurso nacional de deletreo en español desde que era estudiante en Sunrise Elementary School. Después de obtener el primer lugar en el distrito en el Concurso de deletreo de LCPS en 2022-2023, avanzó y compitió en el Concurso de deletreo estatal 2022-2023, donde obtuvo el 3.º lugar en el estado. El año pasado, Natalia consiguió el 2.º lugar en el Concurso nacional de deletreo en español 2021-2022.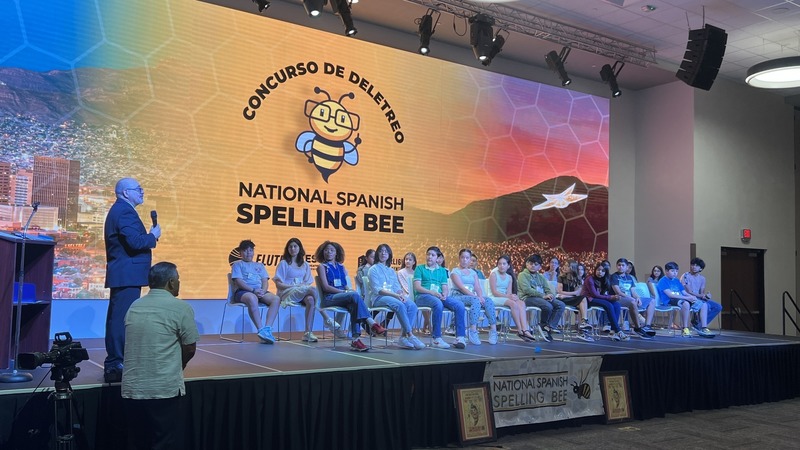 "Todos los maestros y el personal del Departamento de Educación bilingüe, Traducción e interpretación y Apoyo comunitario, incluyendo sus asesores y maestros en Sunrise Elementary y Mesa Middle School, están orgullosos de Natalia," dijo Ge Ann Killgore, Coordinadora de Programas para aprendices del inglés K-12 del Departamento de Educación bilingüe.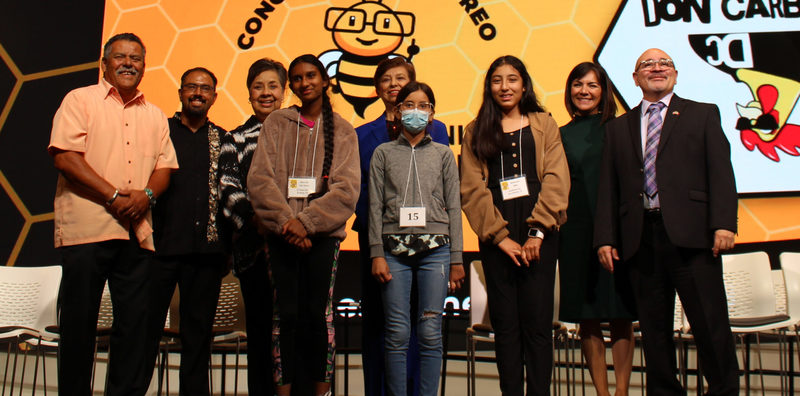 "Es muy trabajadora y estamos muy orgullosos de que este año empató en el primer lugar y que sigue desarrollando esas habilidades de liderazgo," agregó Killgore.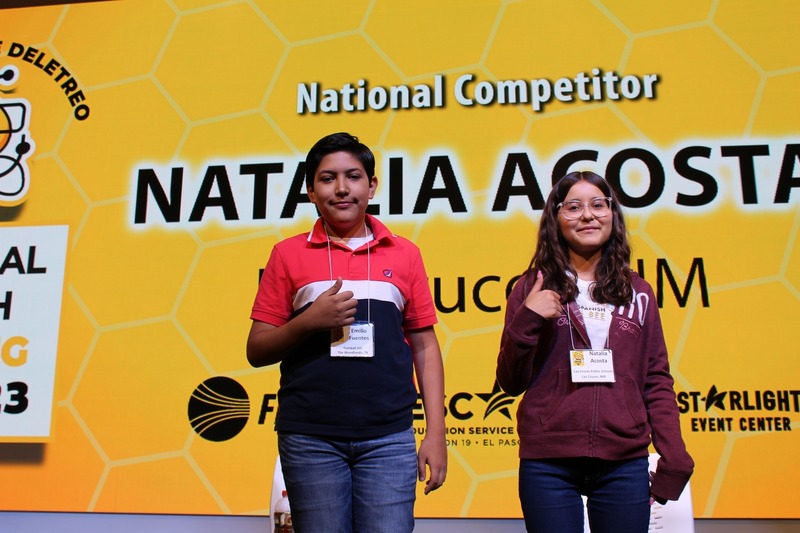 El concurso, celebrado en el Centro de servicios educativos, región 19, reunió a veintiocho campeones de todo Estados Unidos, desde Washington D.C. hasta California. Los concursantes mostraron habilidades excepcionales en español, deletreando meticulosamente palabras de alta dificultad, como 'incognoscible' y 'moaxaja.' El evento comenzó a las 9:00 a.m. y, después de varias horas de intensas batallas de deletreo, culminó en un estancamiento alrededor de las 2:30 p.m.
"Tanto Emilio como Natalia demostraron ser deletreadores sobresalientes y merecieron el título de primer lugar" indicó David Briseño, fundador y coordinador del NSSB. "Me alegra mucho saber que tenemos jóvenes tan decididos y listos en este concurso." Briseño agregó, reconociendo el notable talento mostrado por los co-campeones.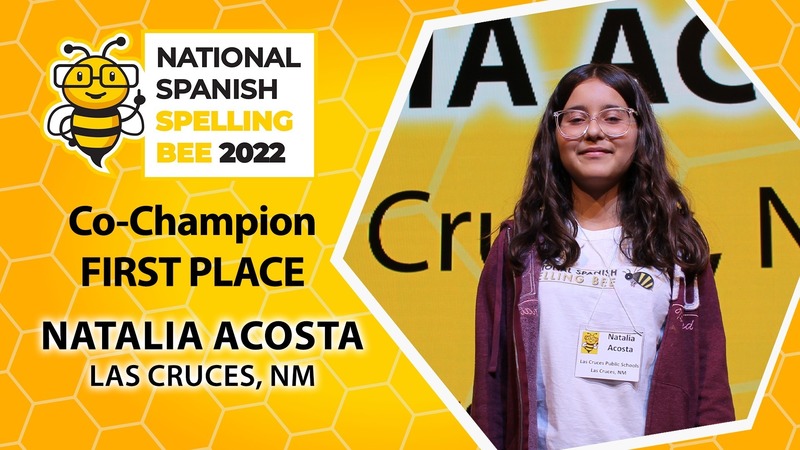 El Concurso nacional de deletreo en español es para estudiantes de 4.º a 8.º grado. Los concursantes deben haber obtenido al menos el tercer lugar en el Concurso estatal o regional de deletreo en español el mismo año del Concurso nacional.
El primer Concurso nacional de deletreo en español se celebró en 2011. Cada año, el programa crece y concursantes de más estados participan. A lo largo de los años, el NSSB ha tenido campeones de todo el país.
***